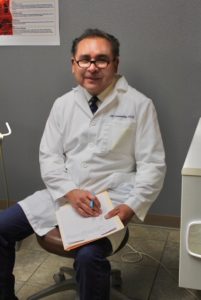 Dr. Gilbert Fernandez has been practicing dentistry since 1986. He graduated from the University of Texas at El Paso in 1978, where he majored in biology and minored in chemistry. He gained his doctorate from the University of Southern California in 1982 and continues his education as often as possible. Dr. Fernandez has been a member of the West Side Study Club since 2006 and the CEREC Study Club since 2009. He has advanced training in CEREC and is a certified Neodent® implant placement member.
His Memberships and Service include:
Dental Chairman of National Chicano Health Organization: 1976-1978
University of Indiana Allied Health Honor Program: 1977
University of Southern California L.A.D.S. (Latino American Dental Surgery): 1978-1982
US Public Health Service Lieutenant: 1982-1986
Assistant Clinical Dental Director in Tierra Amarilla, New Mexico: 1982-1984
Dental Clinic Director at Centro de Salud in Crystal City, Texas: 1984-1986
Dr. Fernandez's goal as a dentist is to deliver high-quality, pain- and trauma-free dentistry to patients of all ages and backgrounds. He continually strives to treat patients with the upmost dignity, compassion and respect.
Dr. Fernandez has been married for over 40 years and enjoys hobbies such as racket ball, weightlifting and HIT training, hunting and fishing, playing golf, and listening to music. His favorite musicians are The Beatles, AC/DC, Metallica, Drake and various Latin composers.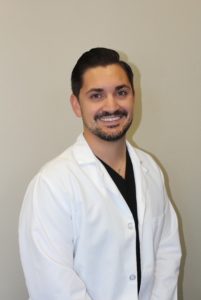 Dr. Michael Manzanares has been practicing in the area since 2016. He graduated from the University of New Mexico in 2001 with his bachelor's degree and then went on to graduate from the Texas A&M University Baylor College of Dentistry in 2016. Dr. Manzanares participated in his general practice residency at West Los Angeles Veterans Affairs Medical Center throughout 2017. He continues his education constantly and enjoys going to in-person courses as well as doing online learning. In addition to being a member of the American Dental Association® and the Academy of General Dentistry, Dr. Manzanares has also received advanced training in endodontics, prosthodontics and oral surgery.
Dr. Manzanares' goal as a dentist is to be able to provide quality comprehensive care to his fellow friends and neighbors.
Dr. Manzanares is proud to be the son of his mother, Nancy, and his father, Dr. Robert, who has over 30 years of experience as a dentist in Española, New Mexico. Dr. Manzanares has two brothers, one who is also a dentist in Albuquerque and another who is a social worker. He also has a girlfriend, who works as a fourth-grade teacher, and a daughter.
When not at the office, Dr. Manzanares enjoys working out, cycling, traveling, listening to live music and hanging with his pup, Riley.
Meet Our Team
Dr. Gilbert Fernandez is proud to present our fantastic dental team! Hardworking and dependable, our friendly team of dental professionals always puts our patients first. We are knowledgeable and family-oriented, with members who speak English and Spanish for your convenience. Learn more about our team, our dentist and our dental care in Albuquerque, New Mexico, by calling our office at 505-898-8063. We look forward to hearing from you!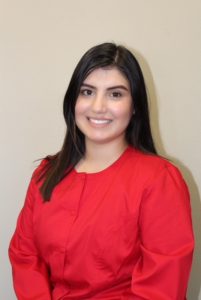 Deira
Registered Dental Hygienist
Deira joined our practice in April of 2021. She graduated from the University of New Mexico in 2020 with a Bachelor of Science degree in dental hygiene. She loves how everyone is so supportive and friendly at our office and enjoys getting to meet patients. She helps with the success of our practice by improving the oral health of one patient at a time and helping cultivate healthy gums, which leads to better overall systemic health.
Deira is married to her husband, and they have a dog named Bailey. Her hobbies include walking Bailey, reading and learning new languages.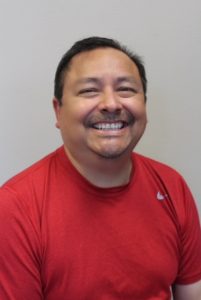 Michael has been a part of our practice since 1998! He obtained his Bachelor of Science in physiology from the University of New Mexico in 1993. He later went on to receive his dental hygiene degree from the same school, where he was chosen as class president.
Michael contributes to the success of our practice by being loyal to his brother (Dr. Fernandez) and our patients. His brother has taught him to be a better dental professional, husband, father and friend. Michael likes being able to work with our doctor, whom he started the practice with in 1998, and enjoys cultivating a great relationship between our staff and patients. Our goal has always been and continues to be giving our patients the best experience possible. As a result, our patients are his main focus, allowing him to be thorough, gentle and able to give educational advice. He has gotten to know our patients throughout the years and enjoys seeing new generations come into our office.
He has been married to his wonderful wife, Elsa, since 1997. Together, they have three beautiful children, along with one daughter-in-law, and have recently been blessed with their first grandchild. They also have a bulldog named Chiquis. His hobbies include watching sports (he is a fan of the Braves and Cowboys) and playing softball and golf.
Michael would also like to take the opportunity to thank all of our patients who sent their support and prayers to his wife and family while she was battling cancer. As of now, Elsa is in remission and doing well.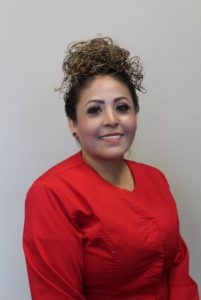 Melissa
Lead Dental Assistant
Melissa became a part of our practice in 2017 but worked with us earlier throughout 2009-2014. She graduated from West Health Center Institute in March of 2004. She has loved getting to know our patients over the years, establishing friendships with them and giving them confidence in their smiles.
Melissa has two boys and a girl. Each of the children has their own dog, as does Melissa and her boyfriend. In her free time, she enjoys exploring and doing crafts, including sewing. She loves going on vacation, checking off items on her bucket list and making new memories with her kids and her boyfriend, who is her other half and biggest supporter.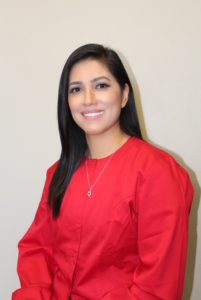 Marcela joined the team in July of 2021. She received her training and graduated from PIMA Medical Institute with honors. She loves caring for our patients and getting to see everyone's unique smile. Her contribution to the practice can be measured by her professionalism, punctuality and strong work ethic.
Marcela is a mother of three: two boys and a girl. Working out and lifting weights is her passion. She is bilingual in Spanish and English and has an outgoing, feisty personality.
Terry joined us in January of 2002! She loves having a relationship with our patients and making sure they are taken care of. She tries to make sure the patients' visits go smoothly, from the beginning to the end.
Terry has a wonderful husband, a son, a favorite baby, Elliott, and a cat, Astor. When not at the office, she enjoys sewing and doing crafts. She and her husband are the children's ministry directors for their church.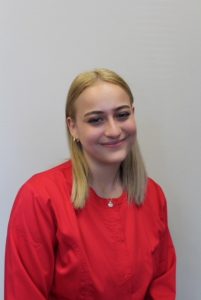 Vanessa V.
Front Desk Receptionist
Vanessa became a part of our team in December of 2020. She enjoys the family-oriented and caring environment of our practice and also the daily donuts from the doctor! She contributes to our success by staying motivated to help every patient to the best of her ability.
Vanessa has four dogs whom she loves to spend her free time with.
Hours
| Day | Hours |
| --- | --- |
| Monday | 7:30 a.m. - 5:00 p.m.* |
| Tuesday | 7:30 a.m. - 5:00 p.m.* |
| Wednesday | 7:30 a.m. - 5:00 p.m.* |
| Thursday | 7:30 a.m. - 5:00 p.m.* |
| Friday | 8:00 a.m. - 2:00 p.m. |
| Saturday | Closed |
| Sunday | Closed |
*Lunch 12:00 p.m. – 1:00 p.m.
Have questions?